In an effort to limit the spread of the COVID-19 and contain the health risk, many businesses are having employees work remotely while they are gradually restoring operations after the extended Lunar New Year break. The online conferencing plays a huge role in enabling enterprises to arrange remote working and facilitate real-time, online communications with employees, suppliers and customers.
However, even with these benefits in mind network connectivity issues can make online video conferencing inefficient and frustrating. Some of the main problems include broken up audio, a video feed that keeps freezing up, screen sharing failure and long delays.
To assist businesses in handling remote-working conditions in this difficult time, CypressTel is announcing 90 days free CloudPress network service to help businesses get connected through online and on cloud conferencing applications efficiently and smoothly.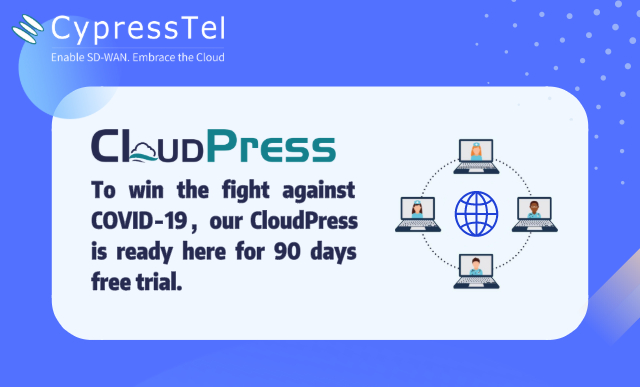 Pls reach us at
sales@cypresstel.com
to apply for the CloudPress account until April 30th 2020.
#cypresstel
#cloudpress
#connectivity
#sdwan